In this part of the show report we will visit the rest of the Syndicate rooms, starting with the Audio Epilog room.
AUDIO EPILOG
Audio Epilog are based in Zagreb, Croatia and this company was new to me and I suspect also new to many who attended this show.
While they had most of their range of speakers on display, they had rather sensibly, in my opinion, opted to use the Issa model for their system. This speakers size, would I felt suit the room better than some of the bigger speakers in their extensive range.
The Issa speaker has a sensitivity of 87db and is a nominal 8 ohms load; with power handling up to 150 watts. Price in the UK is £1104 and they are available in white or black.
The Audio Epilog system consisted of a Pure Sound 8000 Cd player, being used as a transport;with its digital feed being passed into a Benchmark Dac. Amplification during my visit was via a Perreaux integrated 250i but a Pure Sound P30 amplifier was also in the room so may have been used at another time. All the electronics sat on Audio Storm isolation platforms .
The sound in this room was very musical, with excellent pace and timing. The music playing was Jamiroquai-Travelling Without Moving and the track was Alright. I found myself booging to the music, carried along by the excellent sound.
Sadly time was pressing on so I had to leave. However based on my very positive experience in this room I would say that Audio Epilog speakers are worth looking out for.
THE FUNK FIRM
This company was born out of the ashes of the 1980's company Pink Triangle, who were at the time well known for their excellent turntables and electronics. Since the Funk Firm came on the scene a few years ago they have introduced several new turntables, add ons for existing turntables such as the Linn LP12 and a whole range of accessories.
The new Saffire Two turntable, FXR tonearm with Solus power supply was the source in use while I was in the room. Not only did it sound very nice but it was also looking very pretty. On static display was a Funked Linn Lp12 and a Funk Vector turntable sans arm.
The system was hooked up via wraith cabling but as no one was around for me to ask I can't tell you what make the amplification was….sorry.
McINTOSH
Legendary American company, distributed in the UK by Market Leaders had a number of items on display and in use. The system comprised of a C2300, MCD 500, Ms750 music server and 275 amplifiers; the speakers were from Scottish company Art and the model Deco 10 loudspeakers.
The sound quality this system was making was nice but I felt that the volume was a bit too high and thus the room was being over driven. Sadly this made it hard to decide overall what I thought about the sound, as I found it difficult to get past the issues the excessive volume was creating in the room.
HART AUDIO
Hart Audio's room was a real surprise and pleasure. I have not heard of Hart Audio speakers so I was new to the £10000 to £15000 (depending on finish)Evo 1 speakers. At this point I think it worth while giving you the full specs and details from Hart Audio's website, before talking about the sound in this room. These speakers are a two part design with what appears to be a stand actually being an intregal part of the design as this is an active bass module or ABM.
Specs……
"The 12" drivers, crossed over at 1.4Khz, are co-axially arranged with a high power compression tweeter with a combined power rating of 400w-RMS (800W peak) at a frequency range of 70Hz – 25Khz. 
Smooth, beautifully clear and warm when valve powered.
A sensitivity of 97db 1w@1meter. 
Low -Mid power valve amplification is perfect for powering the sensitive 12″ co-ax drivers.
The ABM (Active Bass Module 16Hz-120Hz flat response!) Consists of 8 drive units. The Dual Monitor has 2 ABM's totaling 16 bass drivers The Tri Monitor has 4 ABM's 32 bass drivers, the bass will astound you…………!
The Hart EVO design principle centers on reducing the kinetic energy excitation in the listening room and replacing the wasted vibration with sound energy.
The designs incorporate the Dual Monitor for listening areas up to 300 cubic meters and the Tri-Monitor for listening rooms from 200-600 cubic meters. By reducing kinetic excitation by more than a third the EVO design allows a third more sound energy to be introduced to the listening area. By departing from conventional loudspeaker design the EVO-1 is a louder speaker with minimal distortion from kinetic interference providing a very clear and solid sound throughout the volume range.

Our state of the art English factory on the Isle of Wight ensures our master craftsmen and technicians attain a quality of manufacture process at the very highest of acoustic standards.
Dimensions are 125cm High x 44cm Deep x 44cm Wide
THE MOST AMOUNT OF BASS WITH THE LEAST AMOUNT OF WASTE……" ( http://www.hartaudio.com/ )
The system being used while not inexpensive was certainly not ridiculously expensive either. It consisted of a two box Raysonic CD228 Cd player £3750, Almaro 318B integrated  amplifier£2250, Mod Wright pre-amplifier and Pure Power 1050 £2145.
This was one of the few rooms that really impressed me. At first look, my first thoughts were that these very large speakers would be too much for the room…well I was wrong. The sound was very open, detailed, fast, dynamic, with excellent clarity and musicality. It was also neither forward or dark but just right tonally and these speakers also had the ability to place a very real image in space that was very convincing. Now this image was perhaps not as pin point as that created by….say a smaller monitor speaker but it had the weight and scale that a smaller speaker would lack and thus the music had a more natural and realistic scale. Despite the use of one large drive unit and lots of small ones the music was articulate and coherent. This speaker in this room and on the end of the system was singing. Well done Hart Audio.
On the day I told the guy manning the room, that I thought they had about the second best sound at the show. It would seem that others agree with me as well.
STORM AUDIO
New to the UK and me, this French company based in Laval – France had their range of amplification both on display and at the heart of their demo system.
Storm Audio pride themselves on the following and thus state "we  pay meticulous care and attention to detail, offering more than just a high quality product." They also say that "StormAudio strives to make a new range of HiFi products, pushing the boundaries of performance to unprecedented levels of excellence, through innovation and a total dedication to perfection." Storm Audio use a new circuit topology that they call Storm focus "Our new circuitry brings the amplifier signal transmission – to the loudspeaker – at the next level of evolution" and "StormFocus technology establishes an ultimate listening performance, bringing the musical event to you." These sorts of claims are not new in audio but based on my listening experience in the room, I would have to say that these well made amplifiers were certainly doing something interesting as they sounded very good indeed.
They had the Vertico V35, Vertico V55 on static display (details  http://www.stormaudio-uk.com/products.php) and they were using the V55 amplifier at the heart of a system made up of a DCS Puccini Cd/Sacd player and Focal Electra 1028B speakers.
Sound levels were set to a sensible level (its silly in my opinion, to turn things up so loud that you overdrive the room and the sound falls apart) and while I was in the room; the music program was classical in nature. Overall I would describe the sound as open, detailed and clean with very good focus. There was no trace of solid state glare either from these amplifiers but to my ear, it would have been nice to have had a little bit more valve like presence in the mid range.
Storm Audio are very much a company to keep and eye on.
MUSIC FIRST AUDIO
The moment I walked into this room I knew I was going to like it. Why ? you might ask. Well firstly it was obvious that a lot of attention to detail had gone into its set up and secondly they were using a Revox A77 reel to reel tape recorder/player. I have a soft spot for these types of machines and rather than viewing them as ancient history, something many do, I still see them as being relevant and having the potential to offer excellent sound.
The system being used here consisted of the afore mentioned Revox A77 (playing while I was in the room), MFA Reference pre-amplifier, John Howes featuring Stevens & Billington hand wound main's and output transformers PX25 valve mono power amplifiers, Nottingham Analogue Space Deck, Tron phono stage with MFA MC step-up transformer, MAD cabling and MAD My Clapton speakers.
This was for me was the highlight of the show and the listening experience I had been hoping for since arriving. The sound I heard was just right, it had clarity, purity, detail, dimension, naturalness and musicality in spades, bottom line it was pure magic.
No one part of the frequency range was spotlit, everything was as it should be with the well extended but tight bass underpinning the mid and treble elements. Total frequency coherence was what was on offer with musicality in abundance and all of this was obvious from the moment I entered the room. Well done MFA and MAD.
I could have stayed all day but sadly I had to move on as more rooms needed visiting….its hard life doing a show report.
ART AUDIO
The strap line for Art audio's web site is….ART FOR THE EYES, ART FOR THE EARS and this is very much the case. Standing proud and beautiful on each side of the equipment rack, was a pair of Art Audio Adagios. These amplifiers are available in stereo and as mono amplifiers. They can all so be used with different valves. Art Audio describe this amplifier in this way…." Adagio meets the demand of even the toughest to drive speakers. It comes in two different power output options as well as stereo and monoblock configurations. For the stereo amplifier, the EML 520 outputs at 26 watts, the KR-T100 is at 30 watts. For mono blocks, they output at 44 watts and 50 watts using the same output tubes. Both options deliver Class A single-ended power."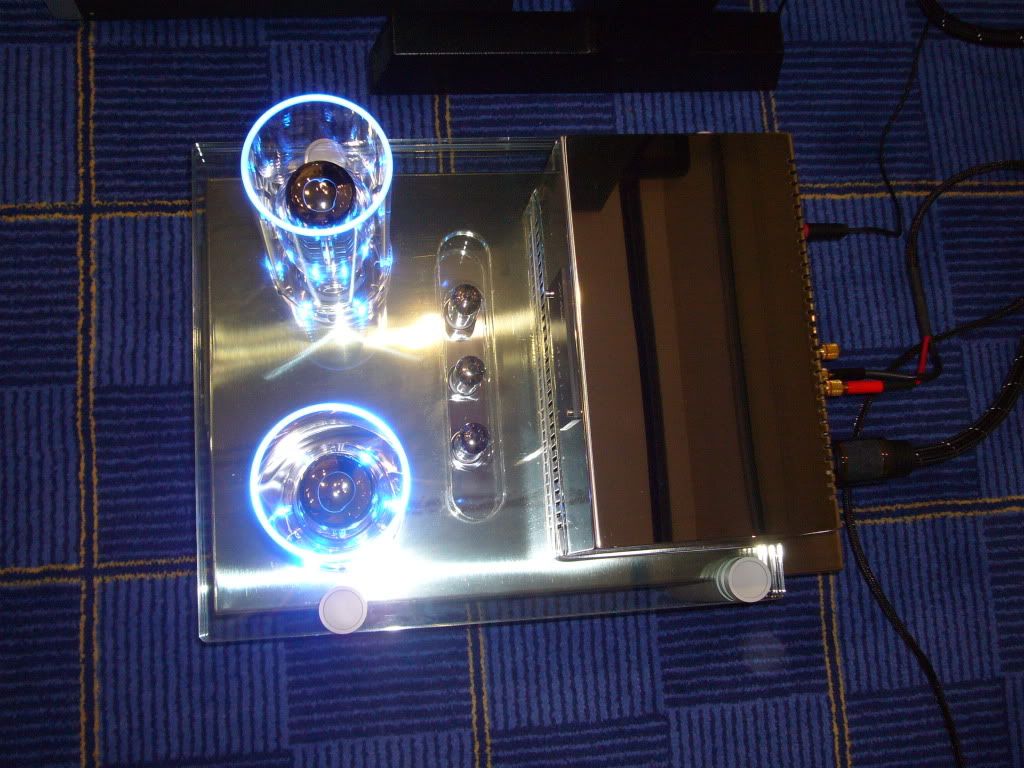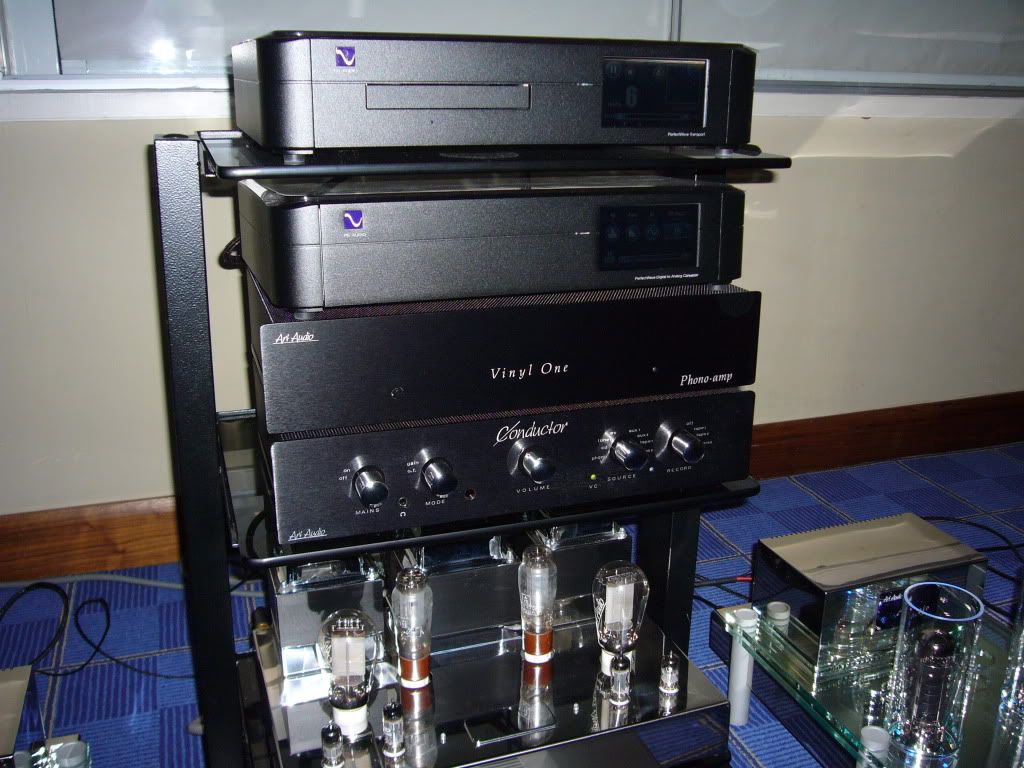 Art Audio's system comprised a PS Audio Perfect Wave transport and Perfect Wave Dac, Conductor pre-amplifier, Diavola power amplifier and the aforementioned Adagio power amplifiers and Ars Aures Mi speakers.
Sound quality on the second day was as good as I have come to expect from this brand. Art Audio always manage to get a good sound at shows.
INSPIRE HI-FI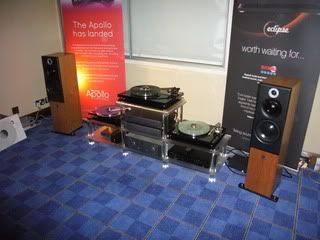 Derbyshire based turntable manufacturer Inspire, had the new Apollo £ 899 on show along with a few of the Eclipse SE variations starting from £1920 for deck with no arm to £5344 for the 12 inch arm version, which comes with an SME V 12 inch arm.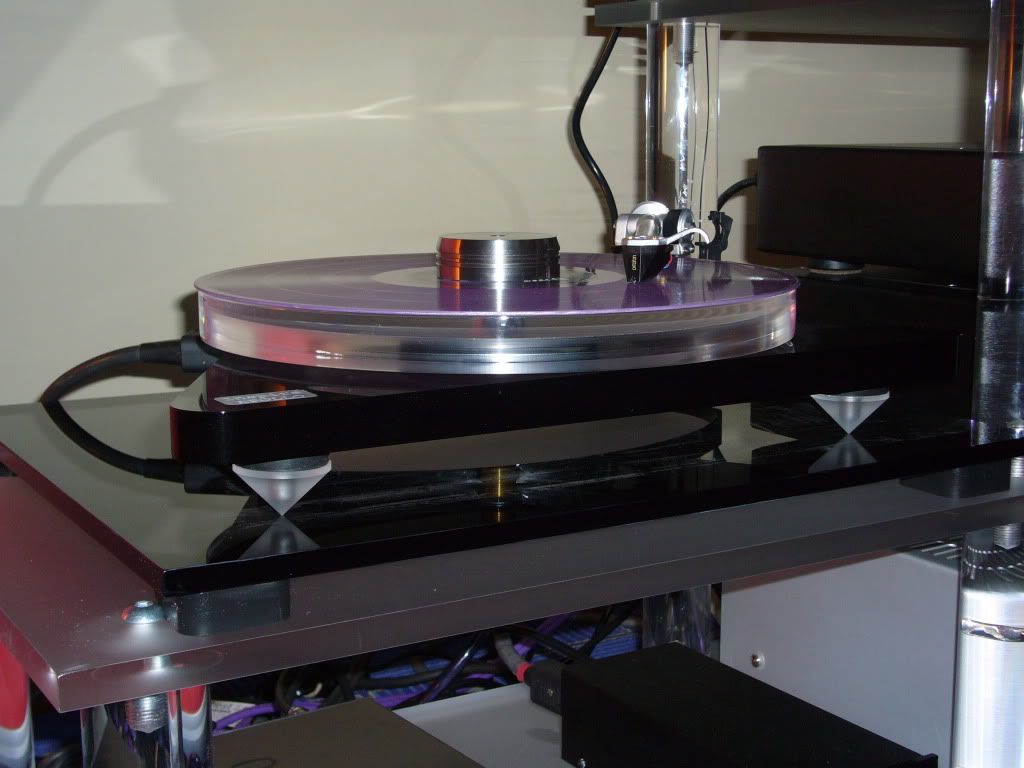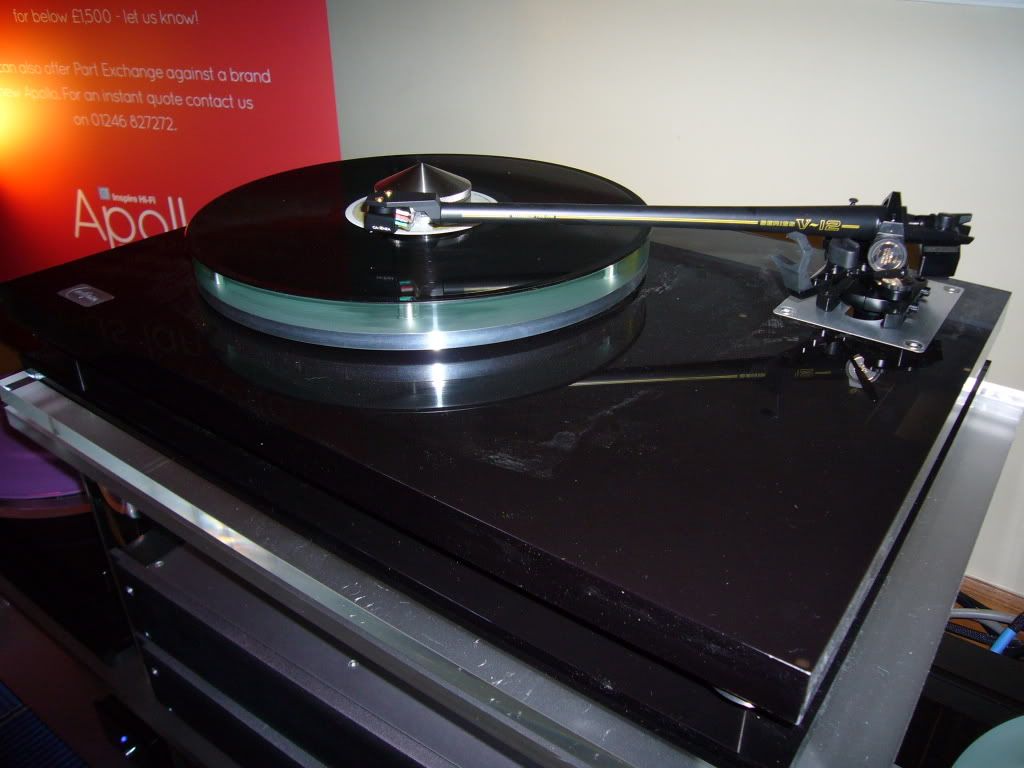 Taken of Inspire's own site they say this of themselves " To own the new Eclipse SE turntable is to possess a highly precision built product in terms of both performance and construction, this together with its sculptured looks, the new owner cannot fail to be inspired.The quality manufacture and processing is carried out by experts in their specific fields. All the work is closely controlled and the finished product is seen to be of the upmost desirability. Listening tests reveal the near magical sound qualities of the Eclipse. Simply put, the Eclipse gives the purchaser a sound quality which we feel is impossible to beat at almost any price. It truly is an inspiring product. Be it in the CNC manufacture of the Acrylic or the amazing engineering work of the metal parts, there can be no doubt that the Eclipse is an inspirational new product for the discerning buyer."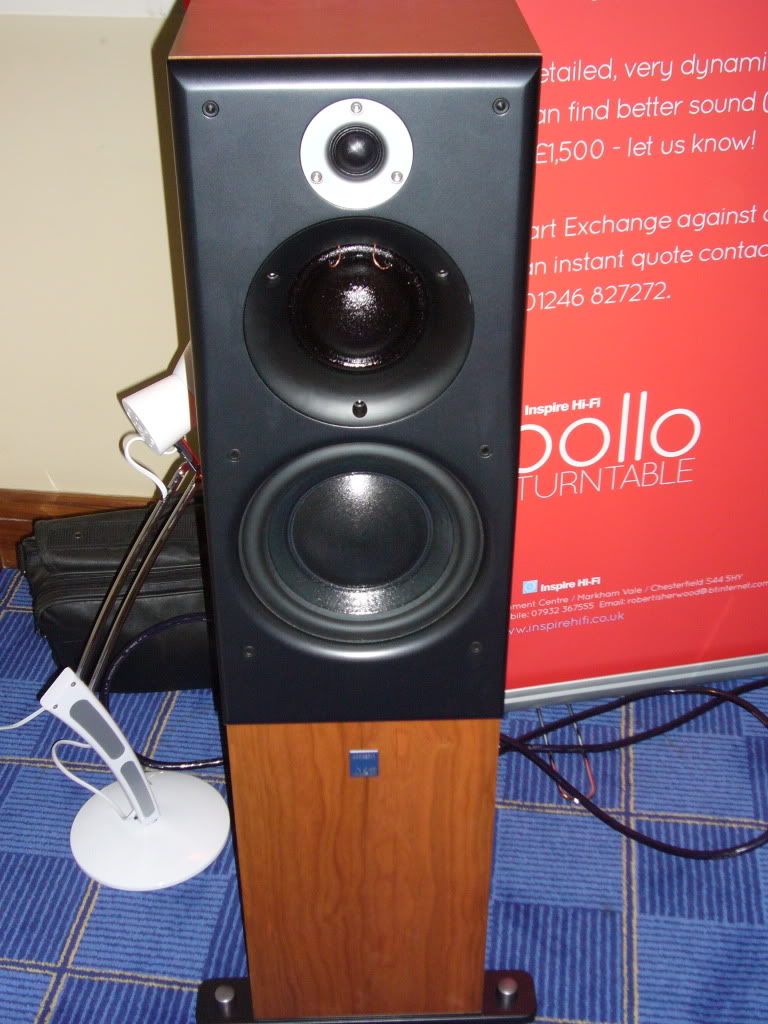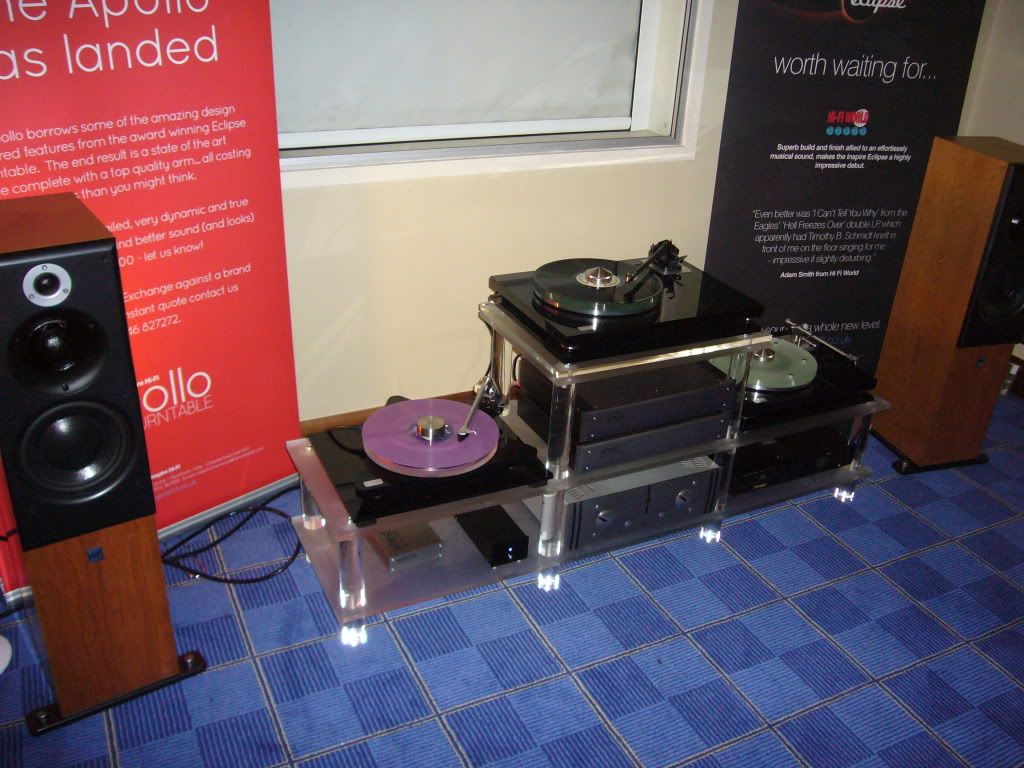 The system in use was made up from an ATC SIA2 integrated amplifier with Whest two box phono stage, Apollo, Eclipse SE turntables and the 12 inch version of the Eclipse SE fitted with a 12inch SME V arm…nice !The speakers in use were from ATC.
I felt that the room Inspire were using was ruining things. I could hear what the system was trying to do but I am afraid that the sound was in my opinion bright, forward and the bass was boomy. I don't for one minute believe that these components sound like this in ideal circumstances so please do check out Inspire Hi-Fi's turntables. The designs are interesting and fit and finish was excellent.
THE RIGHT NOTE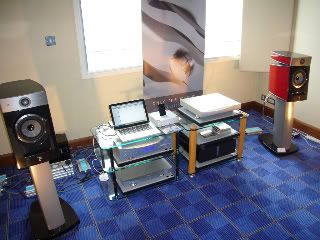 Retailer The Right Note had a computer audio based system on show, as had a few other exhibitors. This for some is the way of the future and this was my first exposure to such a set up.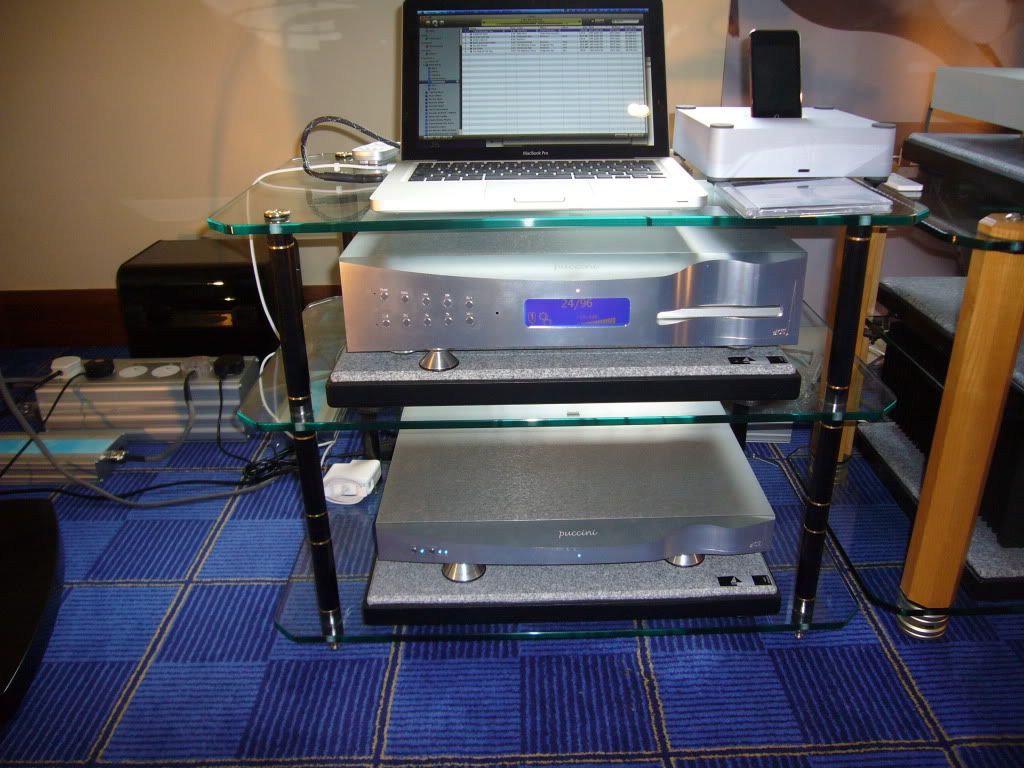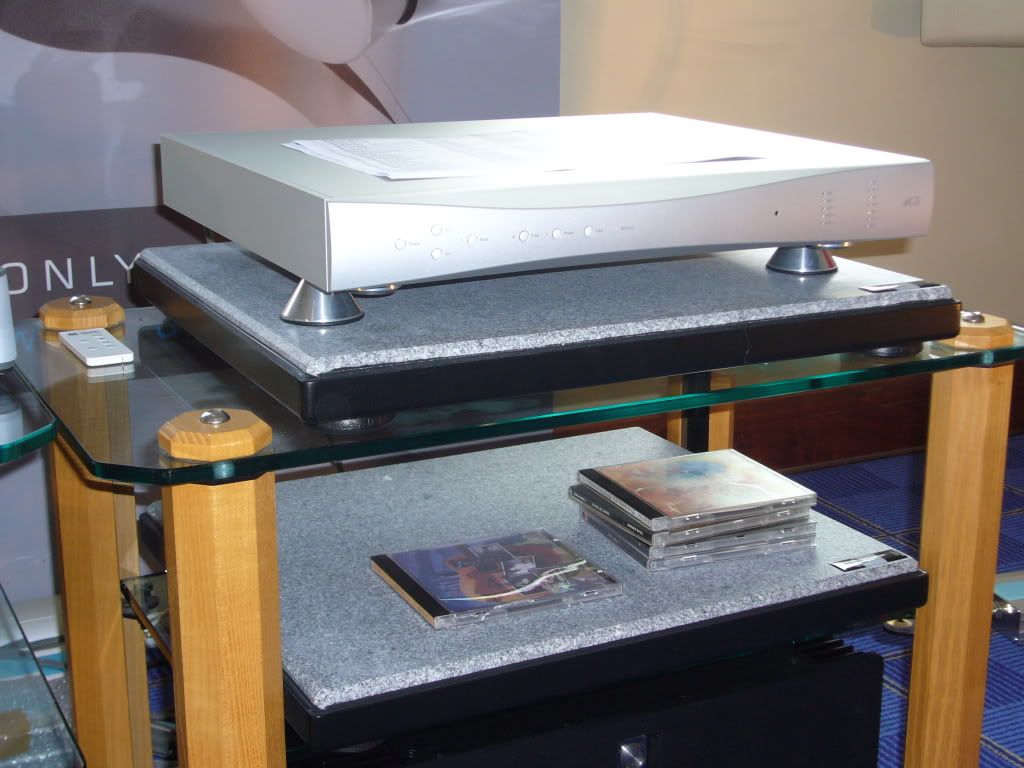 Being honest I felt somewhat challenged by this set up and a few anti-computer audio thoughts and feelings raised their heads when I entered this room.  After pushing them back to where they belong, I sat for a listen and was pleasantly surprised by what I heard.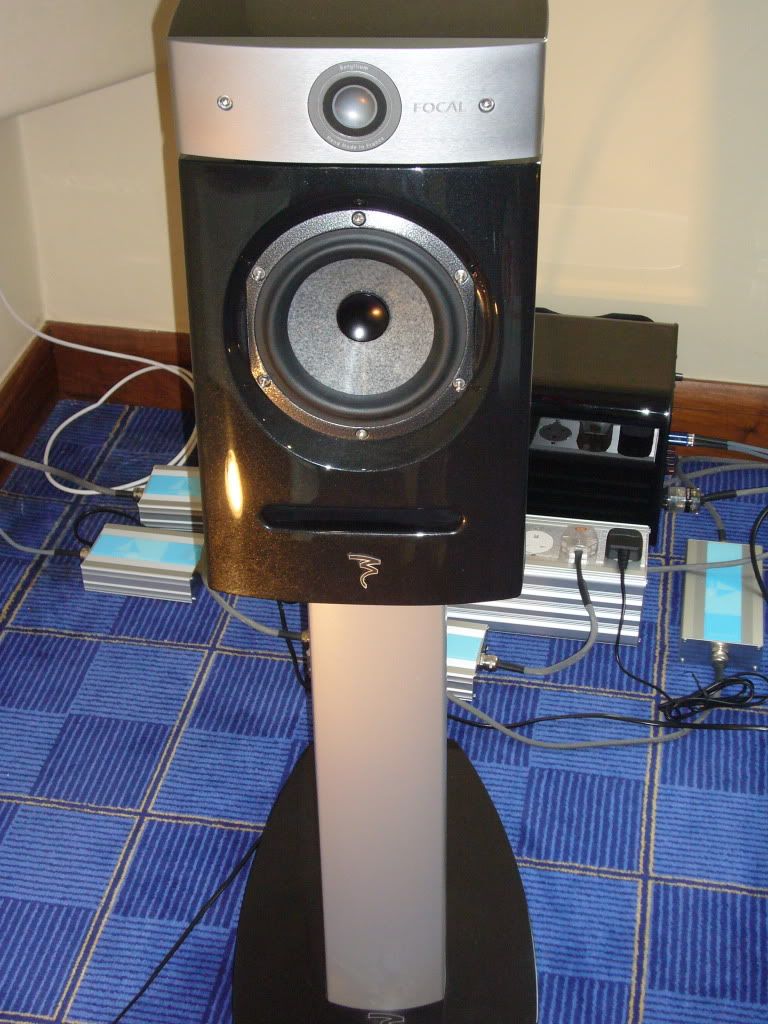 Bella Fleck's song- Blue Mountain Hop was playing and the music had a nice tonal balance and was full of detail but not for the most part at the expense of musicality. I know Bela's sound and playing style quite well and it was all there. If I had a mild criticism, then it was that the sound over all was just a wee bit too analytical and lacked a hint of midrange warmth. This is purely a taste thing, as I am quite sure, that for many others this presentation would be just what they would want and enjoy. Perhaps its my love of valve amplification that just got in the way a bit.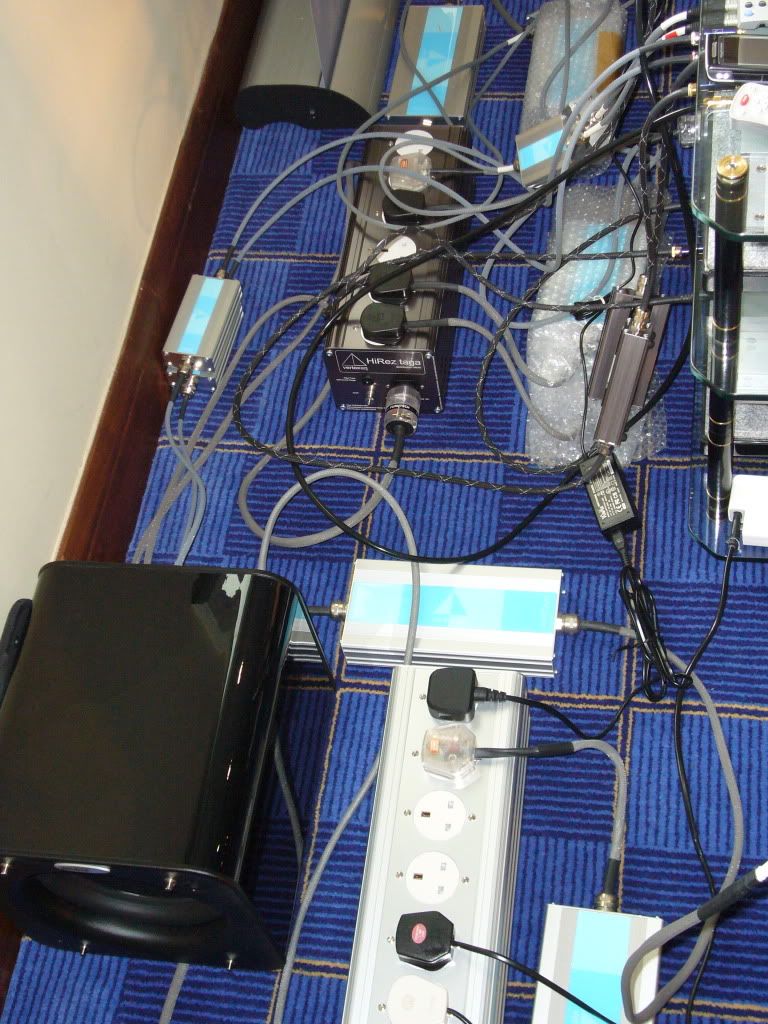 The system in use included a DCS Puccini transport, Clock and a Debussy Dac, Wadia I Doc, Gamut D-200I amplifier, Velodyn subwoofer and a Mac book Pro which was feeding 24 bit/96 files (from which Bela Fleck track was playing.The title was on the screen when I looked) to the afore mentioned Debussy Dac. The speakers were Focal Diablo Utopia and like a number of exhibitors the Right note were using numerous Vertex mains and isolation products.
Overall an interesting experience, though I suspect most computer audio enthusiasts wont be using a DCS Dac and Clock but more likely a Beresford Caiman or Cambridge Dac Magic.
ALTERNATIVE AUDIO
Having somehow missed the Alternative Audio room I have asked Peter Downs to offer a few comments on his room…..
"Alternative Audio as UK distributor were showing for the first time at the show some interesting Serbian 211 SET mono-blocks amplifiers from NAT Audio, the Se1se'MKIIs along with their valve preamplifier the Plasma R and their unusual battery powered valve phonostage the Signature Phono. Also premiering at the show were the Vandersteen Quatro Woods, a four way design with on board powered subwoofer with room equalization.
Finally was the new Brinkmann Bardo Magnetic Drive Turntable with the Graham Phantom II arm and Titan i cartridge. CD duties were taken care of by the EAR/ Yoshino Acute. Handmade cabling from LFD Audio completed what was a very natural sounding system with a good sense of realism. " © Copyright Peter Downs 2010
Neil
Next…. Part Five, The Business Centre……coming very soon.
© Copyright 2010 Adventures in High Fidelity Audio.
NB No part or portion of this article may be reproduced or quoted without written permission.